Newsletter: June 2016
Our newsletters are sent to members at the end of every month. They are composed of articles (usually US death penalty-themed) written by members for members.
We publish an abbreviated version here a month after it was sent out. If you'd like to write for the newsletter and support us, click here to become a member.
Did you know... almost all defendants in capital cases cannot afford their own attorneys?
DPIC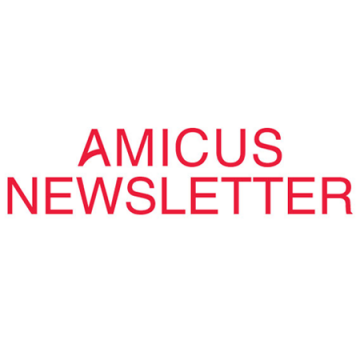 AMICUS NEWS
Autumn Training 2016 dates released!
We have now confirmed our US Death Penalty Training dates for the autumn. The course will run across Friday 4th - Sunday 6th November, and Saturday 26th - Sunday 27th November. Both weekends will be held in central London law firms. For more information and to book now, click here!
ArtReach at Made in Greenwich
ArtReach (the first part of our Art for Amicus series) launched this week with great success. Over two evenings, we discussed the importance of art to those in confinement and considered some beautiful artwork created in very difficult circumstances. The exhibition will continue at Made in Greenwich gallery (SE10 9SW) until 6th July so pop down when you get a chance!

IN THE NEWS
Supreme Court to hear Texas death penalty cases dealing with racial bias and intellectual disability
In an unusual and significant move, the Supreme Court (the Court) has lined up to hear two death penalty appeals during its next term. Read more...
Louisiana executions on hold until at least 2018
A recent court order has suspended all executions within Louisiana until at least 8th January 2018 as a result of current federal proceedings which seek to challenge the constitutionality of Lousiana's lethal injection. Read more...
Vote to repeal California's death penalty qualifies for November ballot
Californians will have the opportunity to repeal the 38-year-old death penalty. Secretary of State Alex Padilla has announced that the initiative, the Justice that Works Act, has qualified for the November ballot. Read more...
Texas Court stays execution of man convicted by now debunked "shaken baby" testimony
On 16 June 2016 the Texas Court of Criminal Appeals granted a motion staying Robert Robertson's execution. In February 2003 Robertson had been found guilty of capital murder and sentenced to death. Read more...

Please get in touch with any thoughts, comments or queries. We'd love to hear from you!
Amicus would like to thank Kimmie Fearnside, Caroline Skeet, Shelina Khudurun and Joseph Beard for their contributions to this month's newsletter.