Introducing the ELSA Amicus Essay Prize
Wednesday, October 26, 2016
We are supporting ELSA UK and ELSA Ireland with an exciting essay competition. Open now!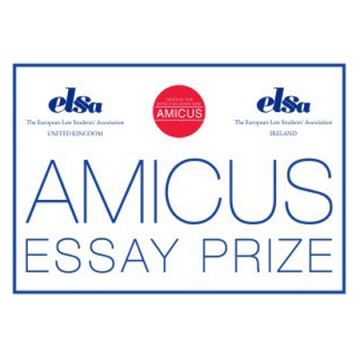 ELSA UK and ELSA Ireland are delighted to announce the first edition of The ELSA Amicus Essay Prize.
Essays should be no longer than 1500 words and address the following question: "To what extent, if any, does the fact there is no general prohibition on the death penalty in international law explain the continued retention of the death penalty in some countries?"
The competition is open to all undergraduate and postgraduate law students, both members and non-members of ELSA, who are studying at a registered academic institution in the UK and Ireland. This includes students on law conversion courses. The competition is also open to first year trainee barristers and trainee solicitors who are currently enrolled on the appropriate legal training course.
For more information, see here.