Newsletter: February 2018
Our newsletters are sent to members at the end of every month. They are composed of articles (usually US death penalty-themed) written by members for members.
We publish an abbreviated version here a month after it was sent out. If you'd like to write for the newsletter and support us, click here to become a member.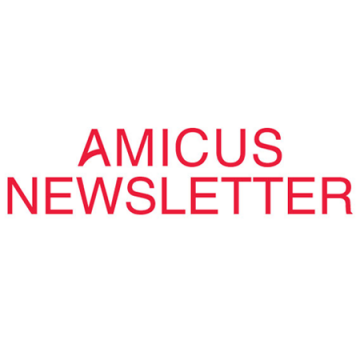 AMICUS NEWS
Thank you to all of the delegates who attended the first weekend of Amicus' US Death Penalty Training Spring 2018!
We thoroughly appreciate your attendance and hope you all were moved by the stories of Sunny and Peter, inspired by the experiences of our former US interns, and engaged with our amazing speakers Valentina Dotto, Mark George QC, Maddie Steele, Sarah Cooper, Professor Jon Yorke, Niall Carlin and Bharat Malkani.
Don't forget, the second weekend of Amicus US Death Penalty Training Spring 2018 will be held at Baker McKenzie on Saturday 24th and Sunday 25th March 2018.
For those of you interested in applying for an Amicus US internship, please click here to apply and for more details.
If you haven't already, check out our blog for updates from our interns in the US and UK. Also, browse The Obstacles page for facts and quotes about death row, including links to some very interesting podcasts. If there is content you think we should include, please get in touch at admin@amicus-alj.org.

IN THE NEWS

Juries, not judges, should impose death sentences say lawyers in Ohio
Lawyers for a former death row inmate have told the Ohio Supreme Court that the state's capital punishment law is unconstitutional because judges, not juries, are imposing death sentences. Read more...
New Mexico bill to restore death penalty dies in committee
Scott Weaver and David Jablonski, the Department of Public Safety and Secretary of Corrections, respectively, both argued for House Bill 155, and the restoration of the death penalty, by highlighting it was critical for law enforcement, and it would be limited only to the "worst of the worst.". Read more...
ABA adopts new resolution urging ban of death penalty for offenders under 21
More than 35 years after the American Bar Association (the ABA) first opposed the execution of juvenile offenders, the ABA recently revised its position, calling for the exclusion of individuals who were 21 years old or younger at the time of their crime, from the death penalty. Read more...
Please get in touch with any thoughts, comments or queries. We'd love to hear from you!
Amicus would like to extend a special thanks to Lucy Willis, Laura-Anne Goulding, and Shaniah Royer for their contributions to this month's newsletter.