Newsletter: March 2017
Our newsletters are sent to members at the end of every month. They are composed of articles (usually US death penalty-themed) written by members for members.
We publish an abbreviated version here a month after it was sent out. If you'd like to write for the newsletter and support us, click here to become a member.
Did you know that this year marks our 25th anniversary?
(Details of celebrations coming soon)
This month intern Julie said:
"Before 8th November it was amusing; now that policies are actually being put in place by the Executive, it feels like a tragedy."
Read Julie's latest blog from Pennsylvania here.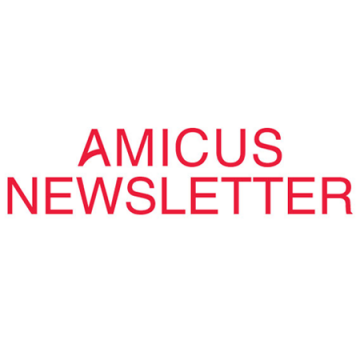 AMICUS NEWS
Save the date! - The Exonerated - 16 May 2017 - Middle Temple Hall
Since 1973, 157 people have been exonerated & freed from death row in the US. This means that for every nine people EXECUTED, one is EXONERATED.
Watch this space - and our website and Twitter feed - for more details on a special evening performance of The Exonerated, a powerful play focusing on six death row exonerations.
The production will feature death row exoneree Sunny Jacobs, playing herself for the first time in years. Also in the cast are leading human rights and civil liberties barrister Leslie Thomas QC and West End actor Jamie Parker (catch him now as Harry Potter in Harry Potter and the Cursed Child).
Set in magical, medieval Middle Temple Hall, it promises to be an emotionally charged performance. Tickets available soon for this unmissable event.
Bobby Moore case - a Supreme Court victory!
SCOTUS ruled in favour of Mr. Moore in a case on which Amicus has been assisting for years. "The Supreme Court reaffirmed that all persons with intellectual disability are exempt from execution, and that current medical standards must be used to determine whether a person is intellectually disabled" said Cliff Sloan, counsel of record for Mr. Moore and partner at Skadden, Arps, Slate, Meagher & Flom LLP.
Thank you to all Amicus caseworkers, interns, members and supporters - your contribution DOES make a difference.
IN THE NEWS
Arkansas schedules eight executions over ten days
An unprecedented eight executions are to be carried out over a ten-day period in April, apparently due to the expiry of lethal injection drugs. Read more...
The Duane Buck case
The Supreme Court granted relief to the Texas death row inmate, who was sentenced to death after a psychologist testified that Buck was more likely to commit future acts of violence because he is black. Read more...
The unfolding drama in Florida surrounding anti-death penalty prosecutor Aramis Ayala
Ayala has been excluded from a murder case following her announcement that her office would not seek the death penalty while she is State Attorney. Read more...
Inventor of lethal injection drug midazolam on its use in executions
Dr. Armin Walser says "I am not a friend of the death penalty or execution." Read more...
Please get in touch with any thoughts, comments or queries. We'd love to hear from you!
Amicus would like to thank Caroline Skeet, Evan Zatorre, Jodie Woodward and Trudy Dargeviciute for their contributions to this month's newsletter.