Newsletter: October 2016
Wednesday, November 30, 2016
Our newsletters are sent to members at the end of every month. They are composed of articles (usually US death penalty-themed) written by members for members.
We publish an abbreviated version here a month after it was sent out. If you'd like to write for the newsletter and support us, click here to become a member.
Did you know... the average time spent on death row for all exonerated individuals is over 11 years?
DPIC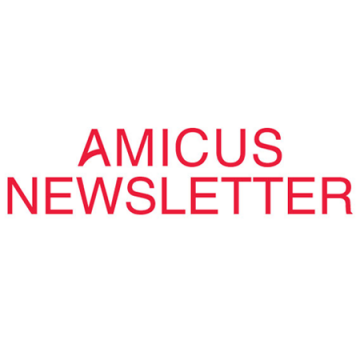 AMICUS NEWS
**An evening of Art for Amicus**
Get your tickets now for our big annual fundraiser! Champagne reception, art exhibition and auction, and talks by American comedian Reginald D Hunter and British artist Bob & Roberta Smith. Tickets available here.
Short-term internship in Maryland
This internship will now be open to both law undergraduates and graduates and a duration of 1-3 months. Scroll down to find out more here.
Amicus US Death Penalty Training
Final few places are available for our bi-annual training course, mandatory if you want to be an intern and interesting and educational even if you don't! Reserve your place here.
IN THE NEWS
A win at all costs - inconsistent evidence bolsters prosecutor's evidence in two separate murder trials
Over half a millennium ago, German scholar Martin Luther advocated "peace if possible, truth at all costs", however the "deeply rooted culture of devaluing due process" in the Orange County Sheriff Department is turning this adage on its head. Read more...
Florida Supreme Court strikes down state's new capital sentencing statute for unconstitutionality
On 14th October, the Florida Supreme Court ruled the state's practice of imposing death sentences without a unanimous jury unconstitutional. This left the fate of the 385 inmates still on the state's death row still on hold, but also allowed for the chance to conceive a less defective system. Read more...

Please get in touch with any thoughts, comments or queries. We'd love to hear from you!
Amicus would like to thank Amel Nahida Damry and Christine Land for their contributions to this month's newsletter.