Newsletter: December 2016
Tuesday, January 31, 2017
Our newsletters are sent to members at the end of every month. They are composed of articles (usually US death penalty-themed) written by members for members.
We publish an abbreviated version here a month after it was sent out. If you'd like to write for the newsletter and support us, click here to become a member.
"It's 40 Christmases later now, and I still remember the pain, loneliness, and sense of helplessness of that place. I remember those who were with me on death row, often think of those there now, and never forget the families who are suffering alongside - but apart from - their incarcerated loved ones."
Roy Keine (released from death row in 1976), NCADP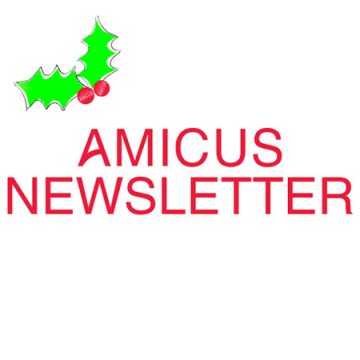 AMICUS NEWS
Shorter internships for 2017
Check out our website where we now list three shorter internships: Missouri, Maryland and Louisiana (New Orleans). The minimum time commitment for each is one month and applications are open now. Plan to do something great in 2017!!
Please advise us!
If you haven't already, please fill out this teeny tiny 7-question survey (1 minute max!). We rely on fundraisers to survive, and your thoughts will really help improve our events in 2017.
Give the gift of justice
If you are still stuck for Christmas presents, please consider giving the gift of justice to a loved one. Purchasing Amicus membership will fuel our fight for justice, a fight that will be increasingly important in 2017.
Spring Training 2017
Dates for Amicus Spring Training 2017 have been released - see here!

IN THE NEWS
White paper issued supporting death penalty exemption for severe mental illness
"Following a national summit on mental illness and the death penalty, the American Bar Association's Death Penalty Due Process Review Project has published a white paper, providing a comprehensive examination of the treatment of mental illness in capital punishment and criminal justice systems in the United States." Read more...
Ronald Smith heaves and coughs during execution
"Ronald Smith had his death sentence carried out on 8th December 2016 in a 34-minute execution in which Smith heaved, coughed, clenched his left fist and opened one eye during one 13-minute period." Read more...
Missouri now leads the United States in per capita executions despite ranking a dismal 49th in public defender spending
"While Americans' distaste for the death penalty grows, Missouri has bucked the national trend by ramping up its efforts to execute more capital offenders." Read more...
Please get in touch with any thoughts, comments or queries. We'd love to hear from you!
Amicus would like to thank Trudy Dargeviciute, Gerry Maguire and Rachel Mazzarella for their contributions to this month's newsletter.