Newsletter: January 2017
Tuesday, February 28, 2017
Our newsletters are sent to members at the end of every month. They are composed of articles (usually US death penalty-themed) written by members for members.
We publish an abbreviated version here a month after it was sent out. If you'd like to write for the newsletter and support us, click here to become a member.
Did you know that this year marks our 25th anniversary? (Details of celebrations coming soon)
This month our intern Shiryn (UK) said:
"I found it staggering to realise that the vital work I have been doing here in the office could help to save a life across the pond."
Shiryn discussed her office internship experience here, while Kirsten chronicled her Lousiana travels here.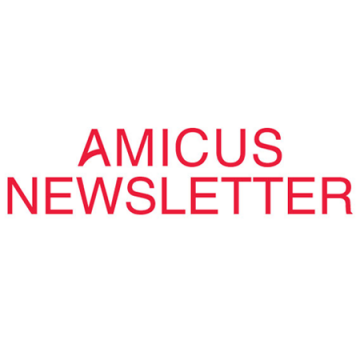 AMICUS NEWS
Office intern vacancy!
We are hunting for an intern to support our work in the office in London. Deadline fast approaching. Click here for more and here to see the intern blog (which includes posts from UK interns).
Yoga for Ommmicus
Just as yoga helped Sunny through her time on death row, so too can it help us through the troubled times in which we live (we hope)... Monday 30th, Middle Temple (London). Sign up now.
Sunny and Peter's trip up north
Sunny and Peter will be visiting Liverpool and Manchester before coming down south for training. Manchester University will be hosting them from 6pm Thursday 9th February - click here to book free tickets. Keep an eye on our website for the Liverpool details.
Spring Training 2017
We need more warriors to fight for justice on death row. If you are interested in human rights and the death penalty, come to Amicus Training to learn more. Russ Stetler, Joe Trigilio and Sunny and Peter will all be speaking (pictures to the right). Click here and please spread the word!

IN THE NEWS
The death penalty according to Martin Luther King
The third January of every year brings about Martin Luther King Day, a federal holiday in the United States. Read more...
Ricky Gray denied clemency despite prolonged childhood abuse and drug addiction
Ricky Gray, a defendant on death row in Virginia, was executed on 18th January after he was denied clemency. Read more...
Murder victim's family urges Governor to commute Missouri's death row
Jeff Ferguson's death sentence was carried out in 2014 for the kidnap, rape and murder of Kelli Hall. Read more...
Washington AG and Governor propose bill to abolish state's death penalty
Since 1904, the state of Washington has executed 78 persons on death row using the two legal methods of execution: lethal injection and hanging. Read more...
Please get in touch with any thoughts, comments or queries. We'd love to hear from you!
Amicus would like to thank Caroline Skeet, Gerry Maguire, Anna Draper and Alejandra Llorente for their contributions to this month's newsletter.