Newsletter: May 2017
Our newsletters are sent to members at the end of every month. They are composed of articles (usually US death penalty-themed) written by members for members.
We publish an abbreviated version here a month after it was sent out. If you'd like to write for the newsletter and support us, click here to become a member.
Did you know that Sister Helen Prejean will be coming to celebrate our 25th anniversary with us in November? Save the date!
This month, Sister Helen tweeted:
"The death penalty is connected to the three deepest wounds of our society: racism, poverty, and violence."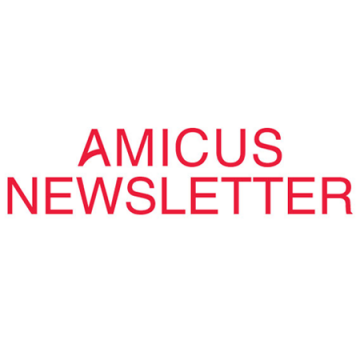 AMICUS NEWS
Our office needs you!
We're on the hunt for interns for July, August and September. Could you help us fight for justice from our office near Blackfriars? Details here.
Call for student reps for 2017-18
As the academic year draws to a close, we are reflecting on the success of this cohort of student reps. They've fundraised, spread word about what we do and inspired other students to get involved. We're really grateful for their support.
If you think you've got what it takes to represent Amicus at your university, apply now for next year. Find out more here.

IN THE NEWS
Death ≠ Justice: Cosmetics company Lush enters death row debate
In a brave move, UK producer of handmade ethical beauty products Lush Cosmetics has launched a US campaign for the abolition of capital punishment: 'Death ≠ Justice'. In its powerful 10-minute campaign video, 'Lush Presents: EXONERATED | A documentary about the death penalty',1 the chilling story of a former death row inmate is explored. Read more...
The death penalty lives on in Louisiana
A bill that could have seen the end of capital punishment in Louisiana has been defeated – by one of its own proponents. In a surprise move, state representative Steve Pylant, a co-sponsor of House Bill 10, which proposed abolishing the death penalty in a state renowned for its high incarceration rates, voted against his own legislation on 17th May. Read more...
The South Carolina shootings – a question of mental competence
Dylann Roof, a 21-year-old American and self-avowed white supremacist, strolled into an evening Bible study session at an African Methodist church in Charleston and shot nine black parishioners on the evening of 17th June 2015. Despite his coherent defence counsel, he chose to represent himself in jury selection and penalty stage, presenting no witnesses or evidence and remained silent. Read more...
Death Penalty Donnie retires
During a career that spanned four decades, Donnie Myers sent 28 men to death row. Six of these men have now been executed by the electric chair or by lethal injection. In sum, he prosecuted more than 40 capital trials and secured 39 death sentences (some of the men were tried twice). It is this record that earned him the nicknames of 'Death Penalty Donnie' or 'Doctor Death', and a spot as one of 'America's Top Five Deadliest Prosecutors'. Read more...
Please get in touch with any thoughts, comments or queries. We'd love to hear from you!
Amicus would like to thank Beth Durkin, Lucie Boase, Holly Marston and Lily Roberts-Phelps for their contributions to this month's newsletter.