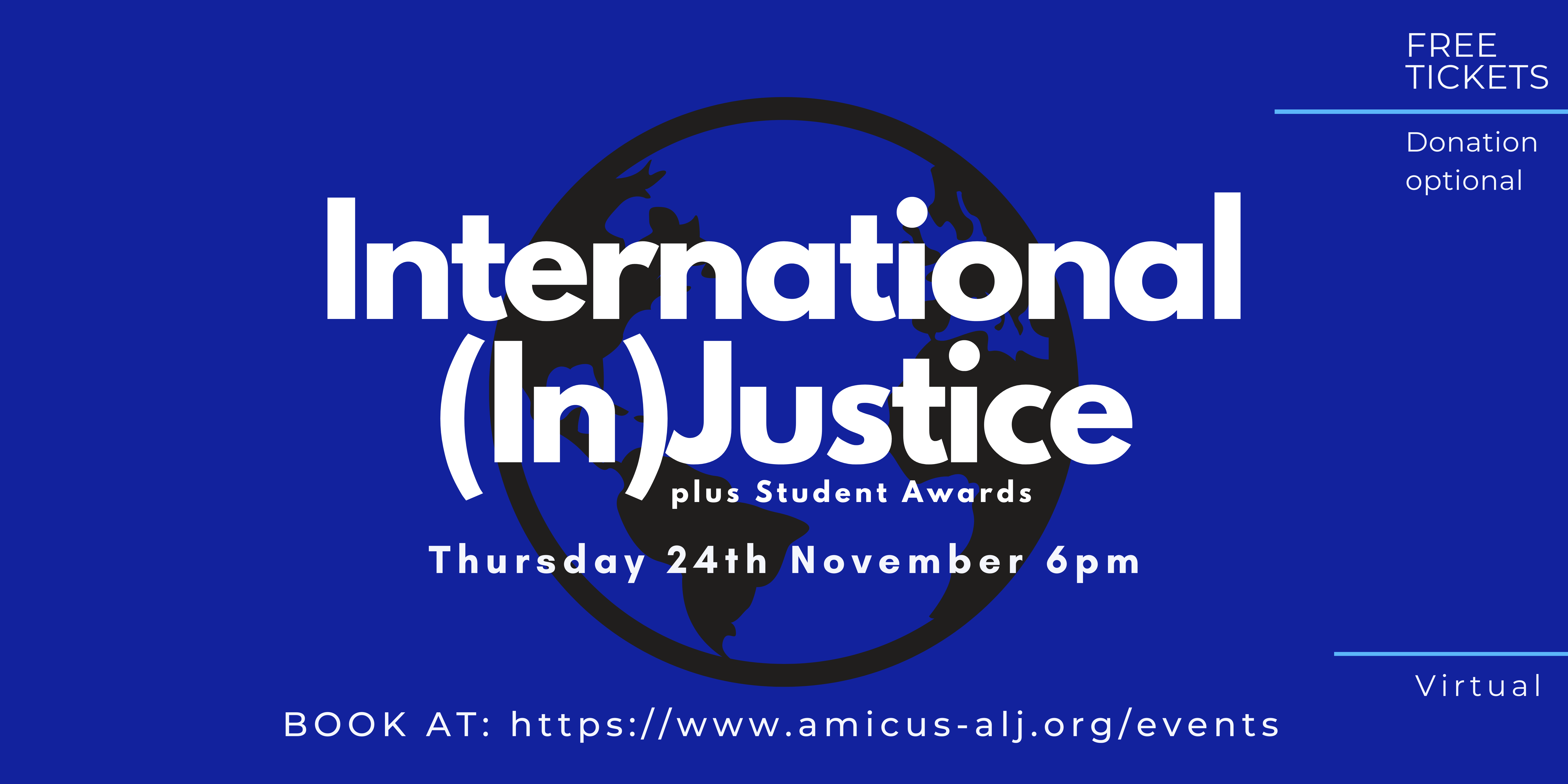 International (In)Justice
(with Student Awards)
Sponsored by The University of Law


Thursday 24th November 2022
6pm via Zoom
On this occasion, we present a discussion on the (in)justice of the death penalty on a global scale. With fabulous guest speakers, we are set for a fascinating evening! Register for free via this link.
We are very proud that this event is sponsored by the University of Law. During the event we will hear from the university about the courses they have on offer and how you can get involved in postgraduate study. There will also be the opportunity to ask any questions you may have about undertaking a legal postgraduate course.
You can now find the programme, here.
​​​​​​​
Speakers
Gabrielle Darden, Capital Mitigation Specialist in Florida
Gabrielle has been involved with Amicus since 2019, initially as a GDL student, where she completed an internship with the Broward County Public Defender's Office. She has a BA in Criminal Justice from Bethel University. She also pursued her Masters in Legal and Forensic Psychology. After her Amicus internship, she worked investigating mitigation in a high profile death penalty case. She just recently accepted a position of Capital Mitigation Specialist for Regional Conflict Counsel Region 1, headquartered in Jacksonville, FL.


Professor Jon Yorke, professor of international law and human rights and Director of the Centre for Human Rights, BCU
Jon is Professor of Human Rights and the Director of the BCU Centre for Human Rights at Birmingham City University. He is an expert on the death penalty and international law. He is a member of the Foreign, Commonwealth and Development Office's Pro-Bono Lawyers Panel, in which he advises the British govenment on death penalty matters. He has advised the European Union and the Council of Europe on death penalty issues and has presented on the death penalty in the United Nations. He is a founding member of the International Academic Network for the Abolition of Capital Punishment, and he has been published widely on death penalty issues. He is a former recipient of the Andrew Lee Jones scholarship.
​​​​​​​

Joyce Claudia Choo, volunteer on US and Malaysian death penalty cases
Joyce is currently reading law at the University of Manchester. She volunteered with an NGO that dealt with cases of the death penalty in drug trafficking offences in Malaysia for two years, and currently she is undergoing a placement with Amicus's U.K. Office. In that capacity, she provides supports in administrative and casework tasks within the American capital defence jurisdiction. Outside of this, she also writes for the Amicus Newsletter on issues of the death penalty and for The Justice Gap, the award winning legal magazine on topics such as the criminal law and miscarriages of justice.
Each with their unique experience of capital litigation and the surrounding human rights issues, will share their story followed by a panel Q&A session which we invite you to get involved with.

We finish by celebrating the students who keep us going in our fight against injustice in the US death penalty. As Gabrielle so aptly puts it, 'One student at a time is how we change one million lives'.
The awards this year will be:
STAND OUT STUDENT GROUP
STAND OUT FUNDRAISER
STAND OUT EVENT
This event is set to be an exciting and celebratory evening - not to be missed! We look forward to seeing you there!
This event is free to attend! Please register via this link.
For those who are able to, we invite donations (any amount - big or small!), to donate click here.
~~~ o ~~~