Upcoming Events
See all of our upcoming events below.
To find out more or if you have a question about any event, send us an email at admin@amicus-alj.org​​​​.


Check this page and our social media for events announcements.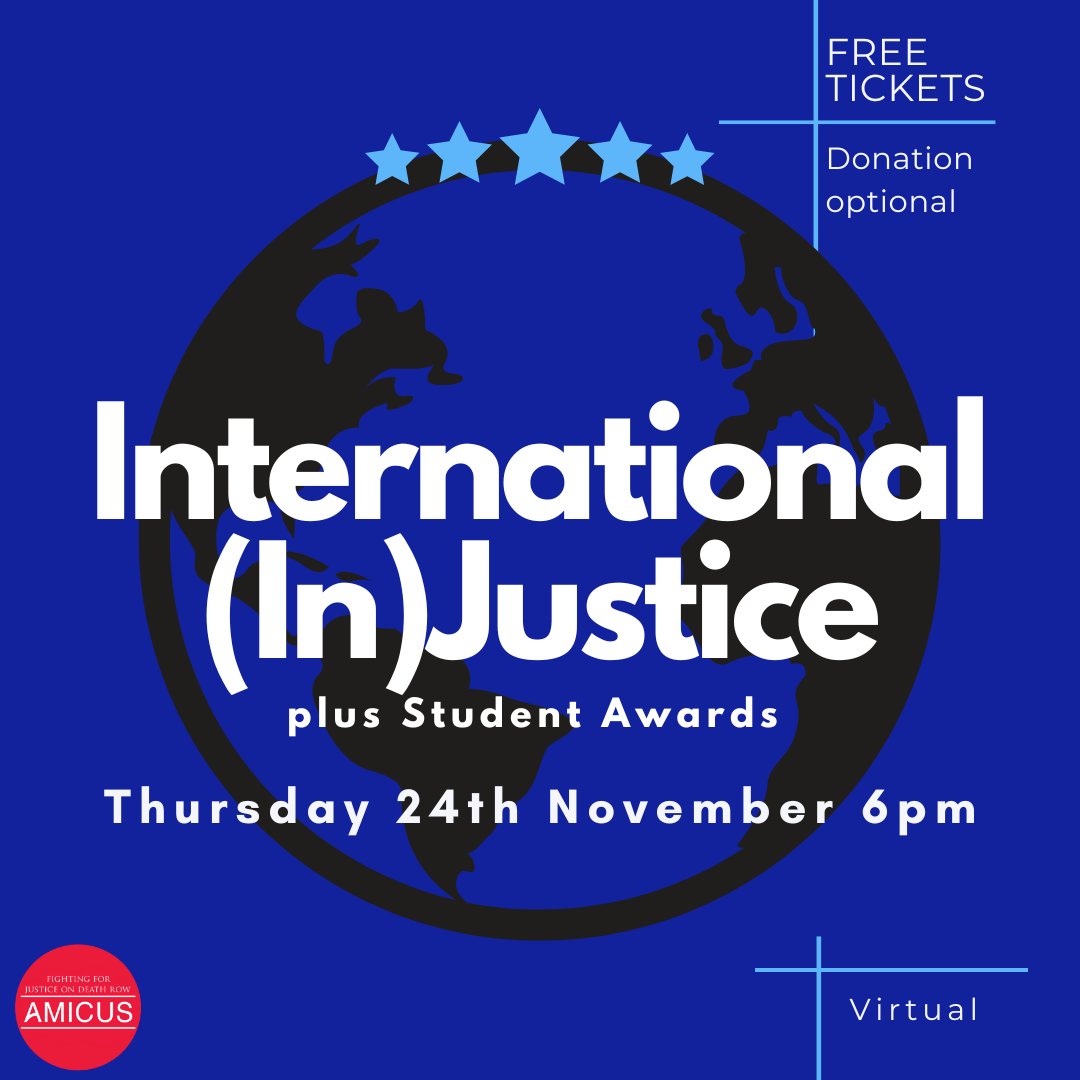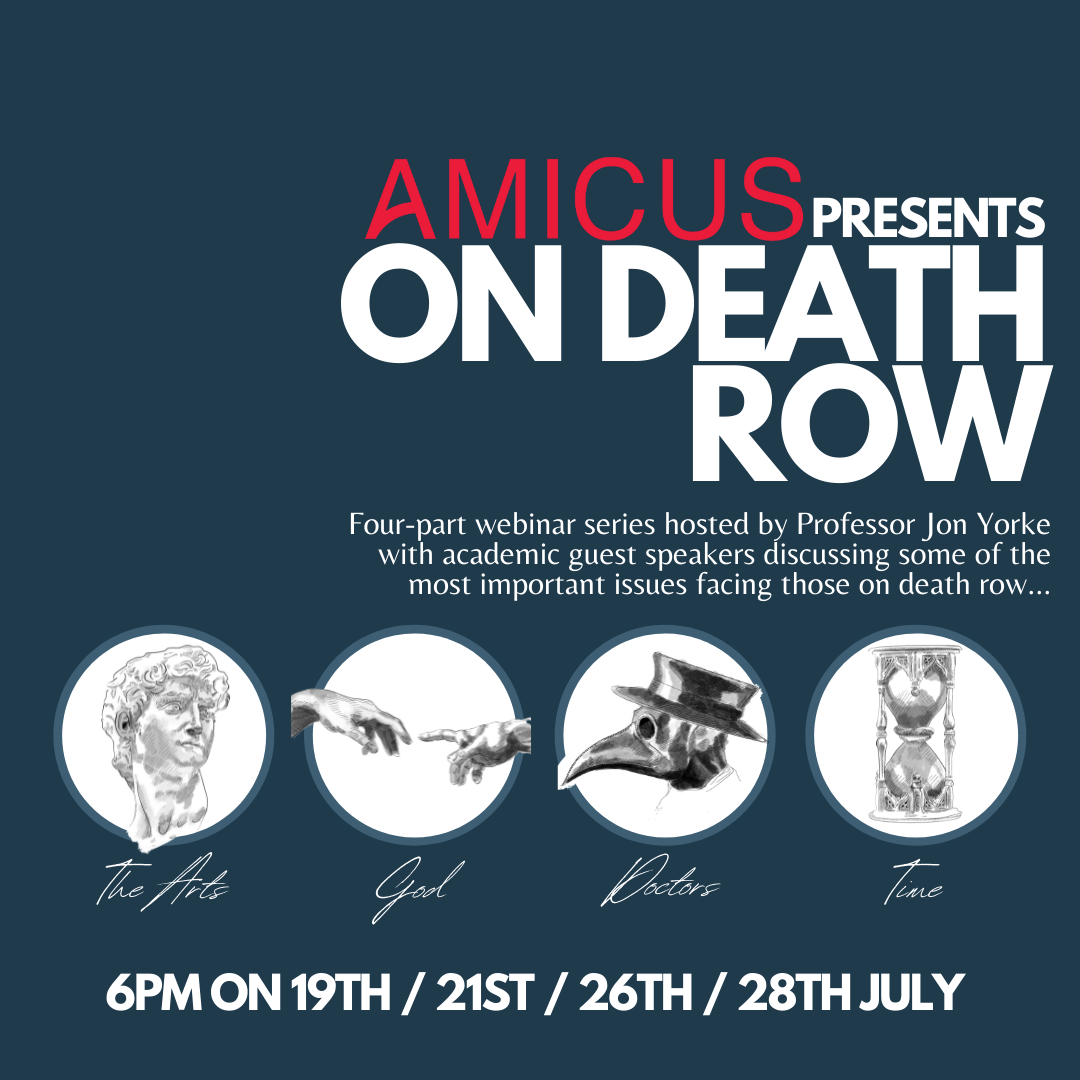 International (In)Justice
Sponsored by the University of Law
Thursday 24th November 2022
6pm on Zoom
On this occasion, we present a discussion on the (in)justice of the death penalty on a global scale. With fabulous guest speakers, below, we are set for a fascinating evening!
Gabrielle Darden, Capital Mitigation Specialist in Florida
Professor Jon Yorke, professor of international law and human rights and Director of the Centre for Human Rights, BCU
Joyce Claudia Choo, volunteer on US and Malaysian death penalty cases, we are set for an-eye opening and thought-provoking evening.
We finish by celebrating the students who keep us going in our fight against injustice in the US death penalty. As Gabrielle so aptly puts it, 'One student at a time is how we change one million lives'.
For full event information and to register for free, please click

here

.
The event is free to attend. For those who are able to, we invite a suggested donation of £5 per person. To donate (any amount - big or small!) click here.


Webinar Series:
Amicus on Death Row
ALL WEBINAR SESSIONS ARE NOW AVAIALABLE TO STREAM
Find out more about our host and exciting speakers here!
Arts on Death Row
The aesthetical impact of paintings, literature, theatre, and music. Professor Jon will introduce 'music on death row,' with the experts discussing how the paintings of Francisco de Goya and the plays of William Shakespeare, contribute to our understanding of the death penalty. Can the arts contribute to ending this punishment?

Episode 1

God on Death Row


To what extent do sacred texts identify a deity that demands capital punishment? This will be an insight discussion into the evolution of the punishment within monotheistic religions such as Judaism, Christianity and Islam. Dr Roberto Carlés will provide excerpts from his personal audiences with Pope Francis. He will be joined by The Very Rev John Witcombe, Dean of Coventry Cathedral.

Episode 2

Doctors on Death Row


In Of the Epidemics, Hippocrates stated, 'The physician must be able to tell the antecedents…with regards to disease, namely, to do good or to do no harm.' We'll discuss how this principle is applied with two of the world's leading experts on medical ethics and the science of putting people to death.

Episode 3

Time

on Death Row Time is an exploitable resource in the death penalty. A dangerous circumstance arises as governments can manipulate processes to weigh-down the scales for executions. Temporal consciousness necessitates an understanding of how linear, cyclical, and relative time is applied. We'll discuss how time can be used to in the defence of those facing capital charges and executions.
Suggested donation of £5 per session for students or £15 for all 4.
For anyone else, suggested donation is £10 per session or £30 for all 4.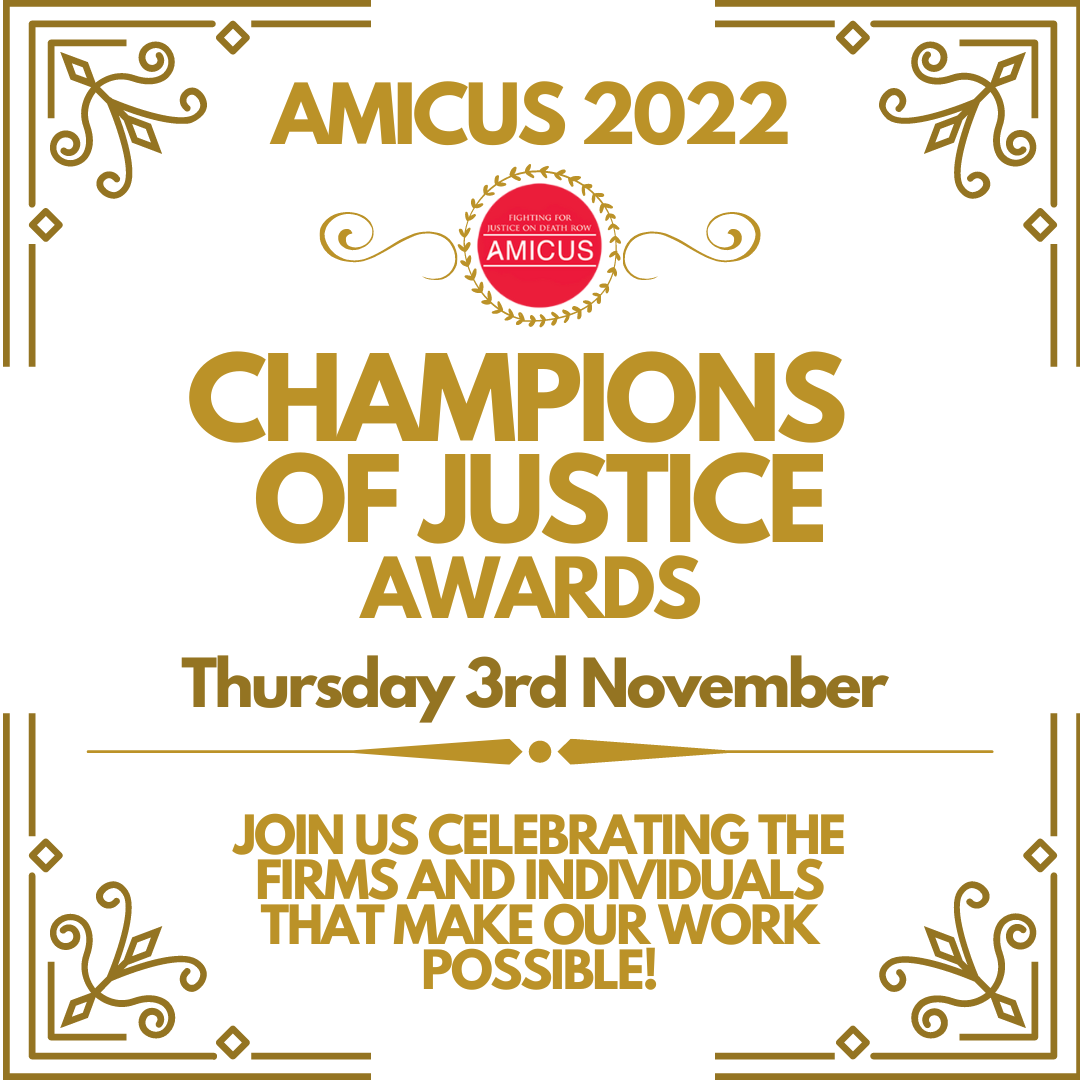 Champions of Justice
Awards 2022
THIS EVENT IS NOW CLOSED
Thursday 3rd November
6pm on Zoom
Nominations now closed
Tickets on sale NOW! Click

here

to book.