Newsletter: February, 2021
Sunday, February 28, 2021
Our newsletters are sent to members at the end of every month. They are composed of articles (usually US death penalty-themed) written by members for members.
We publish an abbreviated version here shortly after it is sent out. If you'd like to write for the newsletter and support us, click here to become a member.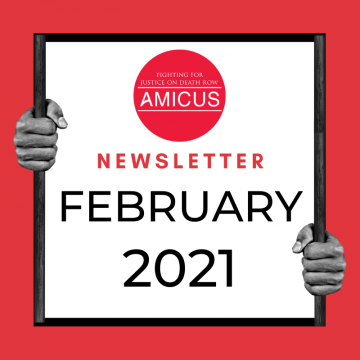 In the News
Virginia legislature votes to abolish the death penalty
Earlier this month, Virginia's legislature passed a bill to repeal the death penalty, making it the 23rd state, and the first of the former confederate, to do so. For Virginia's two current death row inmates, this means their punishment will be replaced with a sentence of life without parole... Read more by becoming an Amicus Member.

Intellectual disability and the right to religion – issues in Willie Smith's execution
The issues in the case of the Black Alabama death row inmate Willie Smith are twofold. Firstly, the jury was not given the most accurate information regarding Smith's intellectual disability. Secondly, Smith was denied his request to have a pastor present in the execution chamber, despite having a right to a religious advisor... Read more by becoming an Amicus Member.

Capital punishment – a most premeditated murder
The inauguration of Joe Biden as the 46th President of the United States of America raises legitimate hopes of a step change in the approach to capital punishment in the US. In the aftermath of an unprecedented spree of federal executions at the hands of Donald Trump, The Oval Office is now inhabited for the first time by a Commander-in-Chief who has openly stated that he will work to abolish the death penalty... Read more by becoming an Amicus Member.

Despite an intellectual disability and lung damage from COVID, US executes Corey Johnson
On 15 January 2021, Corey Johnson, aged 52, was the 12th inmate executed at the prison in Terre Haute, Indiana, since the Trump administration restarted federal executions following a 17-year hiatus. From 1989 to 1992, Corey Johnson and others ran a cocaine trafficking operation in Virginia, according to the federal government... Read more by becoming an Amicus Member.

US federal executions likely COVID-19 super-spreader events
An Associated Press investigation has revealed that the federal executions conducted by the Trump Administration were likely COVID-19 super-spreader events. Thirteen people were executed between July 2020 and January 2021. 2020 alone saw 10 federal executions, the most in a single year since 1896... Read more by becoming an Amicus Member.
UNIVERSITY OF EDINBURGH ESSAY COMPETITION WINNERS

Sixth Form Winner - Ishani McGuire
"The death penalty symbolizes whom we fear and don't fear, whom we care about and whose lives are not valid." - Bryan Stevenson. Discuss.

Bryan Stevenson's statement is correct as the death penalty is an unjust and morally flawed form of punishment that is heavily skewed by human perception and social dysfunction... Read more by becoming an Amicus Member.

Undergraduate Winner - Klara Suleiman
To what extent does capital punishment violate the 8th Amendment of the US Constitution?

There has been persistent debate over whether capital punishment violates the 8th Amendment of the US constitution, and whether or not it should be abolished in the United States... Read more by becoming an Amicus Member.