Newsletter: July, 2022
Our newsletters are sent to members at the end of every month. They are composed of articles (usually US death penalty-themed) written by members for members.
We publish an abbreviated version here shortly after it is sent out. If you'd like to write for the newsletter and support us, click here to become a member.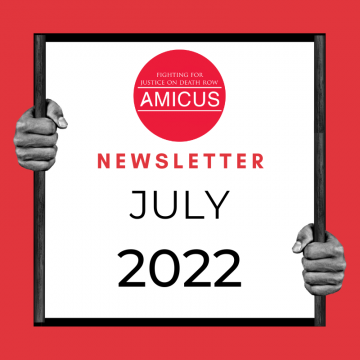 In the News
Oklahoma Court Schedules 25 Executions Between August 2022 and December 2024
The Oklahoma Court of Criminal Appeals has scheduled nearly an execution a month from August 2022 through December 2024. If carried out, the execution schedule, unprecedented in the state's history, would put to death 58% of the state's death row, including multiple prisoners with severe mental illness, brain damage, and claims of innocence.... Read more by becoming an Amicus member.

Death penalty's 50-year rise and fall since Supreme Court struck it down
Frank R. Baumgartner, a political science professor at the University of North Carolina and a death penalty historian, said the Furman decision buoyed hopes at the time that the death penalty could be ended permanently and the United States might become a worldwide leader in abolition... Read more by becoming an Amicus member.
Florida Supreme Court Rejects State Attorney General's Attempt to Block DNA Testing in 46-Year-Old Death Penalty Case
The DNA testing and fingerprint analysis of evidence in the case for lawyers for Henry Sireci could prove him innocent of a murder that sent him to death row 46 years ago say his lawyers.... Read more by becoming an Amicus member.
Amnesty International Urges President Biden to End the Federal Death Penalty and Commute All Federal Death Sentences

A new report by the human rights organization Amnesty International urges President Joe Biden to act upon his campaign pledge to work to abolish the death penalty by exercising his constitutional authority to commute the sentences of all federal death row prisoners... Read more by becoming an Amicus member.

Appeals Courts Delays Texas Execution Set for This Week

An appeals court has stayed this week's execution of a death row inmate who had raised questions about whether prosecutors had presented false and inaccurate testimony from an expert on whether he would commit more crimes in the future... Read more by becoming an Amicus member.

FEATURE by Lucja Jastrzebska, Student at University College London
Read Lucja's essay on 'Botched Executions'. Death penalty executions can go wrong, and these are termed 'botched executions'. Botched executions are defined by a break in, or departure from, the 'protocol' for a particular method of execution. The protocol can be established by the legal norms, expectations, and guidelines in different states...Read more by becoming an Amicus member.