Newsletter: November, 2022
Our newsletters are sent to members at the end of every month. They are composed of articles (usually US death penalty-themed) written by members for members. We publish an abbreviated version here shortly after it is sent out. If you'd like the write for the newsletter and support us, click here to become a member.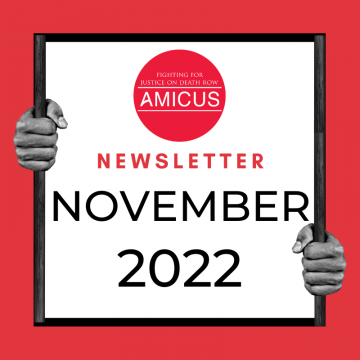 In the News
Nikolas Cruz sentenced to life imprisonment
Nikolas Cruz, convicted of killing 17 people at Marjory Stoneman Douglas High School in February 2018, was sentenced to life imprisonment this October after three jurors voted to spare his life. Florida's state law, like most death-penalty states, requires a unanimous jury verdict... Read more by becoming an Amicus member.

Glossip execution postponed to allow evidentiary hearing petitions to be reviewed
The execution of Richard Glossip - previously scheduled to take place on 8th December - has been pushed back yet again, after an Executive Order1 was issued by Governor Kevin Stitt granting a stay of execution until early next year. This is the seventh time... Read more by becoming an Amicus member.

Appeals Court weighs death row inmate's disability claims
Byron Lewis Black was convicted of the triple murders of Angela Clay, his girlfriend at the time, aged 29, and her two daughters, Latoya, age 9, and Lakeisha, age 6. He received life sentences for the murders of Angela and Latoya and was sentenced to death... Read more by becoming an Amicus member.

Pandemic murder rates highest in death penalty states, DPIC analysis found
On 8 November 2022, the Death Penalty Information Centre (DPIC) published their analysis of the 2020 US murder data in a report by the think tank, The Third Way, called The Red State Murder Problem. The DPIC's findings revealed the positive correlation.. Read more by becoming an Amicus member.

Justice Ketanji Brown-Jackson dissents in favour of death row inmate
Supreme Court Justice Ketanji Brown Jackson was confirmed as one of the nine Supreme Court Justices earlier this year. Her first written opinion is a dissent in favour of convicted Ohio death row inmate, Davel Chinn... Read more by becoming an Amicus member.

Texas executes man who says he was denied proper access to psychological evaluation
A man suffering from paranoid schizophrenia was executed in the state of Texas on the 9th November. He was the 13th person to be put to death in the United States this year and the fourth to be executed in Texas. 61-year-old Tracy Beatty was convicted... Read more by becoming an Amicus member.

FEATURE: The Process for a Death Penalty Conviction
The US contains fifty state constitutions and penal codes. Each state has their own jurisdiction in which
they operate their own rules and legislation on how legal issues are to be resolved. The US is a legal
governance of both federal... Read more by becoming an Amicus member.