Newsletter: April, 2021
Wednesday, April 28, 2021
Our newsletters are sent to members at the end of every month. They are composed of articles (usually US death penalty-themed) written by members for members.
We publish an abbreviated version here shortly after it is sent out. If you'd like to write for the newsletter and support us, click here to become a member.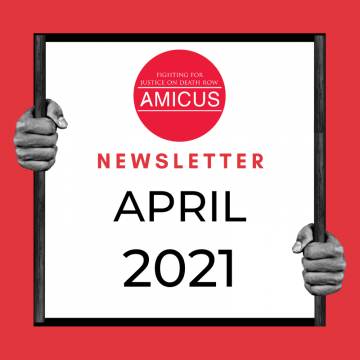 In the News
Former Florida death row prisoner with innocence claim released pending outcome of federal appeal
On 7 April 2021, Judge Roy B. Dalton, of the U.S. District Court for the Middle District of Florida, ordered the immediate release of Crosley Green after he had served more than thirty years incarcerated for a murder he did not commit. Green's immediate release has been ordered while a federal appeals court considers the prosecutor's appeal of the district court decision to overturn his conviction... Read more by becoming an Amicus Member.

Nevada Assembly passes death penalty abolition bill
On 13th April, the Nevada Assembly, the lower house of the Nevada State Legislature, passed bill AB395. This bill would not only remove capital punishment as a sentencing option moving forward, but would also remove the death sentences of the more than 70 inmates currently on death row in Nevada. Their sentences would be converted to life without the possibility of parole. This bill is the first of its kind to progress past the Legislature Committee stage in Nevada... Read more by becoming an Amicus Member.

World business leaders use their voice to launch a campaign to abolish capital punishment
Sir Richard Branson, Virgin Group founder, has joined forces with other business leaders to launch a campaign to abolish capital punishment in the United States and other countries. In March 2021, at the virtual innovation and technology festival, SXSW, the 70-year-old billionaire announced the Business Leaders Against the Death Penalty Declaration. The Declaration is signed by key figures from the global business community who individually represent numerous sectors and countries... Read more by becoming an Amicus Member.

83% of death sentences have not resulted in executions under Ohio's 'lethargic' death penalty
Just one in six people sentenced to death in Ohio are executed, according to the 2020 Capital Crimes Annual Report. The report, released by Ohio Attorney General Dave Yost on 1 April 2021, describes the state's capital punishment system as "time-consuming, costly and lethargic." In the forty years since Ohio's current death penalty laws were enacted, 336 people have been sentenced to death. According to the report, however, just 56 of these sentences have been carried out. By contrast, 82 sentences have been removed, 21 have been commuted, and 33 prisoners have died whilst awaiting execution... Read more by becoming an Amicus Member.

The death penalty for mass shooters? Depends on where they strike
Geographical disparities expose the arbitrariness of the imposition of the death penalty. Whilst many large, urban counties have shown a political shift away from the death penalty in recent years, capital punishment lives on primarily due to its continued support in small geographical pockets, as opposed to states as a whole. In 2013, the Death Penalty Information Center reported that all of the state death row prisoners nationwide came from just 20% of counties, and the majority of executions had been produced by just 2% of counties... Read more by becoming an Amicus Member.

District Attorneys are asking Biden to end the death penalty, but some are still wielding it themselves
President Biden has been called upon by numerous district attorneys in a letter pressing for the eradication of the death penalty. The letter referred to the thirteen federal executions by President Trump as "an assault on human dignity and an affront to American values". However, some of the signatories who claim to champion criminal justice reform are still pursuing death sentences, opposing appeals and even petitioning for execution dates... Read more by becoming an Amicus Member.