Newsletter: December 2018
Wednesday, January 2, 2019
Our newsletters are sent to members at the end of every month. They are composed of articles (usually US death penalty-themed) written by members for members.
We publish an abbreviated version here shortly after it is sent out. If you'd like to write for the newsletter and support us,
click here
to become a member.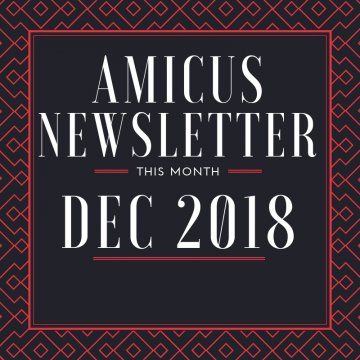 Amicus News


SPRING TRAINING

If you missed your opportunity to attend our US Death Penalty training, you can book your place for Spring Training 2019.

Spring Training Dates
Weekend 1: 8th, 9th & 10th March
Weekend 2: 23rd & 24th March

Booking is now open.

Amicus and amazon
There's now a simpler way to give to Amicus. AmazonSmile allows you to donate a small part of your purchase to a chosen charity at no extra cost. To find out more and set up Amicus as your charity visit the Amazon website here. US PLACEMENTS
For those of you interested in completing an Amicus US Volunteer Placement, please click here for more details and to apply.

If you haven't already, please take a moment to fill out ourcommunication preferences form so that Amicus can keep you up to date with Amicus news, events and opportunities.

Also, browse The Obstacles page for facts and quotes about death row, including links to some very interesting podcasts. If there is content you think we should include, please get in touch with us at admin@amicus-alj.org.

In the News
Lawsuits in Indiana and Missouri may bring more transparency in execution process
Following two public access lawsuits filed in Indiana and Missouri, the process for death penalty executions in those states may become more transparent. In Indiana, in a public access lawsuit ruling handed down on 30 November 2018, a Marion County Court ordered that the state must release records for the pre 2017 period, concerning details of how the state carried out executions ...Read more

Father of murder victim expresses disdain to the possibility of death penalty sentence
As James Alex Fields Jr. arrived at a white supremacist rally, his disagreement with counter-protesters became evident as he drove his car into the crowd, resulting in the death of Heather Heyer. In Virginia, Fields Jr. faced ...Read more

"Beats being on death row" – the last words of David E Miller
Just weeks before Christmas, on 6 December 2018, David Earl Miller became the second inmate in as many months to be executed by electric chair in the State of Tennessee. His execution followed a refusal by Governor Bill Haslam to grant clemency notwithstanding the submissions made on his behalf that Miller was suffering from profound mental disorders at the time he committed ...Read more