Newsletter: December, 2020
Thursday, December 31, 2020
Our newsletters are sent to members at the end of every month. They are composed of articles (usually US death penalty-themed) written by members for members.
We publish an abbreviated version here shortly after it is sent out. If you'd like to write for the newsletter and support us, click here to become a member.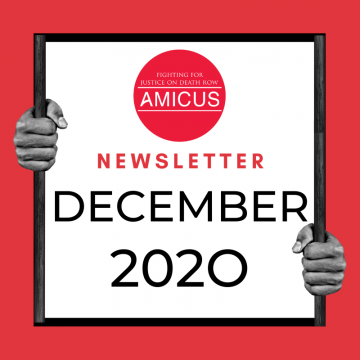 In the News
The average cost of securing a death sentence in Hamilton County (Ohio) is over $1 million
The social justice agency 'The Intercommunity Justice and Peace Center' (IJPC) has published research showing that the average cost to the state for a death penalty case, where the sentence is later reduced, is over $1 million... Read more by becoming an Amicus Member.

UN experts call for clemency for Lisa Montgomery after US government reschedules execution
The fate of the only woman on federal death row is now in the hands of the US government in light of urgent questions raised by her lawyers and UN experts over the fairness of her trial. In a statement made on Thursday 3 December, UN experts supported a clemency application made by Montgomery's lawyers, stating that the original trial 'ignores or discounts essential facts that may have significantly influenced a capital defendant's motivations, situation and conduct'... Read more by becoming an Amicus Member.

Ohio could soon exempt those with serious mental illnesses from the death penalty
In December 2020, Ohio senators passed the House Bill 136 (23-7), which would prohibit the executions of those convicted of aggravated murder if they suffered from one of four names serious mental illnesses at the time of the crime... Read more by becoming an Amicus Member.

Newly elected prosecutors are challenging the death penalty
In December, two more district attorneys have been elected following promises not to seek the death penalty once in office. They follow earlier successes the month before in counties in California, Atlanta, Arizona and Texas, which sparks hope for a wider societal shift towards death penalty opposition... Read more by becoming an Amicus Member.

Brandon Bernard: one of the youngest people sentenced to death in federal court
On Thursday December 10, 2020 Brandon Bernard was executed by lethal injection at a federal prison in Indiana. This was after the US Supreme Court rejected a last-minute appeal to stay the execution and Donald Trump did not publicly respond to calls for him to intervene... Read more by becoming an Amicus Member.
KINGS COLLEGE LONDON ESSAY COMPETITION RUNNER-UP
Sana Hamid, Student at the University of Law, answers the question "The death penalty has been described as an instrument to enforce racial hierarchies throughout the United States historically, beginning with the colonial period. How true is this description in the present day?" Read more by becoming an Amicus Member.