Newsletter: November, 2020
Monday, November 30, 2020
Our newsletters are sent to members at the end of every month. They are composed of articles (usually US death penalty-themed) written by members for members.
We publish an abbreviated version here shortly after it is sent out. If you'd like to write for the newsletter and support us, click here to become a member.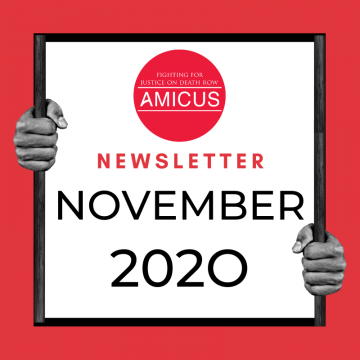 In the News
U.S. criticised for use of death penalty during Universal Periodic Review
On 9 November 2020, the United States participated in the United Nation Human Rights Council's (UNHRC) 36th session of the Universal Periodic Review Working Group. The international community criticised the U.S. on a number of issues, particularly in relation to their continued use of the death penalty... Read more by becoming an Amicus Member.
What does Biden's win mean for the future of criminal justice?
In 1994, then-Senator Joe Biden helped author a reform bill that set strict sentencing standards – and that experts claim led to an era of mass incarceration propped up by institutional racism. 26 years later, Biden's support of "tough on crime" legislation became one of the most contentious criminal justice issues of the 2020 U.S. Presidential Election... Read more by becoming an Amicus Member.
Anti-death penalty reformer unseats Los Angeles District Attorney
On 3 November 2020, George Gáscon defeated incumbent Los Angeles District Attorney Jackie Lacey, by 53% of the vote to 47%. The election was deeply influenced by the death of George Floyd and the Black Lives Matter movement, as Lacey herself acknowledged: "the results of this election is a result of our season of discontent and demand to see a tsunami of change"... Read more by becoming an Amicus Member.
Lawyers argue Ohio death-row prisoner with dementia is incompetent to be executed
At seventy-nine years old, James Frazier is the oldest inmate on Ohio death row and, if unsuccessful on appeal, he will become the second oldest person to be executed in the United States to date. In 2017, Frazier suffered numerous mini strokes that caused vascular dementia. The profound ethical questions surrounding his scheduled execution have garnered worldwide attention… Read more by becoming an Amicus Member.
Brandon Bernard seeks Trump clemency, citing jurors' regret for death penalty
Twenty years ago, Brandon Bernard was found guilty of carjacking and murder. He was just 18 at the time, but the jury unanimously recommended the death penalty and his sentence was affirmed upon appeal. So, what has changed? The majority of the jurors from the original trial no longer support his death sentence... Read more by becoming an Amicus Member.