Newsletter: February, 2023
Our newsletters are sent to members at the end of every month. They are composed of articles (usually US death penalty-themed) written by members for members. We publish an abbreviated version here shortly after it is sent out. If you'd like to write for the newsletter and support us,
click here
to become a member.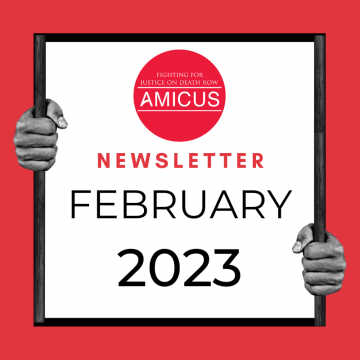 In The News
'Can you spell lynching?': lawyer's shocking note in Texas execution case
By Joyce Choo
John Balentine was executed on 9 February 2023, despite an emergency petition from his attorneys. The petition argued... Read more by becoming an
Amicus member
Florida could end jury unanimity in death penalty cases
By Shonte Humphrey
Governor Ron DeSantis has called for the end of jury unanimity in Floridian death penalty cases, suggesting "maybe eight out of twelve"... Read more by becoming an
Amicus member
Texas death row prisoner commits suicide
By Haocheng Fang
On 21 January 2023, Texas death row inmate, Terence Andrus, hanged himself at the age of 34. This was about six months after...
Read more by becoming an
Amicus member
Constitutionality of the death penalty argued in Kansas capital murder case
By Madeleine Gosden
A constitutional challenge to the death penalty has been brought in the state of Kansas after Kyle Young was charged with the murder... Read more by becoming an
Amicus member
NYC truck terror attacker fights to avoid death penalty over ethnic discrimination claims
By Ellie Vowell
In the week leading up to the penalty phase of Sayfullo Saipov's trial, Saipov's defence attorneys offered to make a plea deal... Read more by becoming an
Amicus member
Raheem Taylor: man executed for killing girlfriend and three children despite claiming innocence
By Phoebe-Jean Grainger
A man convicted of murdering his girlfriend and her three children has been executed in Missouri, despite his claims... Read more by becoming an
Amicus member