Newsletter: August 2018
Monday, September 3, 2018
Our newsletters are sent to members at the end of every month. They are composed of articles (usually US death penalty-themed) written by members for members.
We publish an abbreviated version here shortly after it is sent out. If you'd like to write for the newsletter and support us, click here to become a member.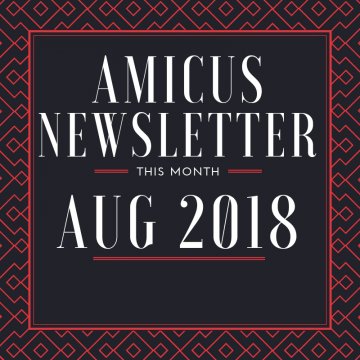 AMICUS NEWS
Matrix Bursary Applications Now OPEN!
If you're considering doing a US internship but don't know how you're going to fund it, Amicus in conjunction with Matrix Chambers could help! We are giving 3 US internship candidates bursaries worth £500 each to help partially fund their internship. All you have to do is apply!

Deadline is Sunday 28th October at 23:59 pm.
For more details and to apply click here.
Booking For Autumn Training NOW OPEN!!
Amicus' US Death Penalty Autumn Training 2018 will be taking place on 19th - 21st October and 3rd - 4th November.
Spaces are limited. To avoid disappointment book your place here.
Amicus Student Reps!!
Applications for Amicus student reps are now open! To check if your university has a rep and to apply click here.
Deadline is Friday 5th October*.
Alternatively, check our the Student Rep section on our website for more details.
*BCU and Birmingham students apply early. We have a special opportunity for you to host a talk with death row exonerees, Sunny and Peter, in October.
Deadline for Birmingham and BCU students is Wednesday 19th September at 23:59 pm.
Amicus and amazon
There's now a simpler way to give to Amicus. AmazonSmile allows you to donate a small part of your purchase to a chosen charity at no extra cost. To find out more and set up Amicus as your charity visit the Amazon website here.
US Internships
For those of you interested in completing an Amicus US internship, please click here for more details and to apply.
If you haven't already, please take a moment to fill out ourcommunication preferences form so that Amicus can keep you up to date with Amicus news, events and opportunities.
Also, browse The Obstacles page for facts and quotes about death row, including links to some very interesting podcasts. If there is content you think we should include, please get in touch with us at admin@amicus-alj.org.
IN THE NEWS
German drug maker sues to block Nebraska execution
On Friday 10th August a Federal Judge ruled against Fresenius Kabi, a German pharmaceutical company who alleged that Nebraska had illegally obtained ... Read more
Florida justices halt execution as handwritten notes contradict police testimony
On August 10, the Florida Supreme Court halted the execution of Jose Antonio Jimenez. The unanimous one- page order issued by the Court did not explain the reasons the justices granted the stay. Nonetheless, Mr Jimenez's execution ... Read more
PTSD and a system in chaos
Andrew Witt and Robert Fisher were two servicemen initially sentenced to death whilst suffering with Brain Trauma and Post-traumatic Stress Disorder (PTSD) respectively. It was only after repeated re-trials and appeals that they received 'relief' from their death sentence. Both cases raise a number of ambiguities regarding ... Read more
The pope changed the catholic church's position on the death penalty, will the supreme court follow?
On August 2nd 2018, Pope Francis made a revision to the Catechism of the Roman Catholic Church, stating definitively that the death penalty is unacceptable in all cases on the grounds that it is an attack on the dignity of a person. This marks ... Read more
Missouri federal appeals court: journalist's execution witness lawsuit may proceed
Christopher S. McDaniel is a well-known investigative journalist who has written extensively on the death penalty, including several articles criticizing Missouri's execution practices. In January 2014, McDaniel applied to be a witness to ... Read more


Amicus would like to extend a special thanks to Caroline Skeet, Micheal Henshall, Allison Phillips, Rani Kaur, and Siobhán Caslin, for their contributions to this month's newsletter.
If you'd like to have your say, please get in touch with us at admin@amicus-alj.org. We'd love to hear from you!