Newsletter: August, 2021
Wednesday, September 1, 2021
Our newsletters are sent to members at the end of every month. They are composed of articles (usually US death penalty-themed) written by members for members.
We publish an abbreviated version here shortly after it is sent out. If you'd like to write for the newsletter and support us, click here to become a member.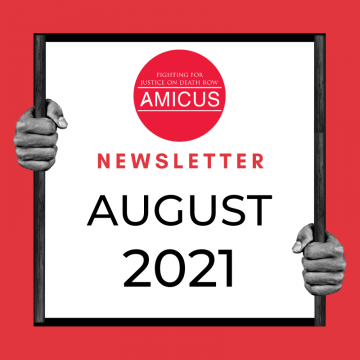 In the News
Lethal injection executions: does Mississippi now have the drugs and are they counterfeit, expired or contaminated?
Until 2009, most states used a three-drug combination for lethal injections: an anaesthetic (sodium thiopental, until pentobarbital was introduced at the end of 2010), pancuronium bromide (a paralytic agent), and potassium chloride (causing death). Due to drug shortages... Read more by becoming an Amicus Member.
Alabama appeals court reverses lower court ruling and restores death sentence in a case in which 10 of 12 jurors voted for life
The decision by the Alabama Court of Criminal Appeals (CCA) on the 6th of August 2021 to reinstate the death penalty previously handed down by a lower court, brings into question the constitutionality of the American legal system, especially in cases which involve judicial override. The case of Brandon Deon Mitchell, who was sentenced to death... Read more by becoming an Amicus Member.

Biden's golden opportunity to abolish the federal death penalty
The federal death penalty was reinstated, following its abolishment under Furman v Georgia, in 1988. It is a system of punishment that applies to all fifty states and U.S territories. While there are approximately 60 eligible offences for the federal death penalty, it is rarely used and, when it used, it is generally only for a small number of offences such as terrorism... Read more by becoming an Amicus Member.

Former death row inmates sue Ohio for denying them parole
First and foremost; according to US law, the case of George v. Lillard established the definition of parole as a conditional pardon before the expiration of a prison term, but still under the supervision
of a public authority, with the threat of imprisonment upon violation of parole conditions. The case of Greenholtz v. Inmates of Neb. Penal & Correctional Complex identifies... Read more by becoming an Amicus Member.

Equal Justice Initiative releases report on racial discrimination in jury selection
Racial bias in jury selection, particularly in death penalty cases, is compromising the "credibility, reliability, and integrity of the legal system" a report from the Equal Justice Initiative (EJI) has found. The Civil Rights Act 1875 was enacted nearly 150 years ago to eliminate racially discriminatory jury selection, yet race-based discrimination in jury selection persists... Read more by becoming an Amicus Member.

DPIC analysis: 13 exonerated in 2020 from convictions obtained by wrongful threat or pursuit of the death penalty
A Death Penalty Information Centre (DPIC) analysis of data from the National Registry of Exonerations has revealed that the use, or threat of, capital prosecution against suspects and witnesses contributed to the wrongful conviction of 10% of the people exonerated in 2020, and 21.6% of exonerees... Read more by becoming an Amicus Member.