Newsletter: September, 2021
Our newsletters are sent to members at the end of every month. They are composed of articles (usually US death penalty-themed) written by members for members.
We publish an abbreviated version here shortly after it is sent out. If you'd like to write for the newsletter and support us, click here to become a member.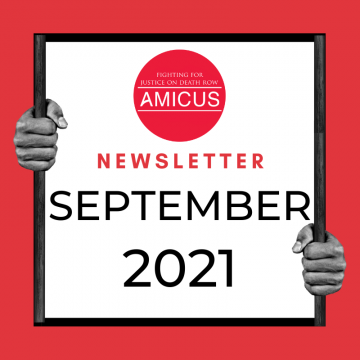 In the News
'Martinsville 7' granted posthumous pardons 70 years after their executions In early February 1951 at the Virginia State Penitentiary, seven men were sent to the electric chair. It was the largest execution for rape charges in the United States. Seventy years later, on 31st August 2021, all seven of these men were pardoned of their crimes by Ralph Northam, Governor of the state of Virginia... Read more by becoming an Amicus Member. Cincinnati man requests new trial based on study finding racial disparity in capital punishment Walter Raglin was convicted of the aggravated murder of the musician, Michael Bany, in 1995 after Bany was shot and killed when leaving a performance on Main Street in Cincinnati. Raglin was sentenced to death in 1996. Now, more than twenty years later, Raglin's defence attorney, William Gallagher, has put forward a request to file a follow-up motion requesting a new trial... Read more by becoming an Amicus Member. Oklahoma pushes back 7 executions due to notice requirement The State of Oklahoma, one of the remaining 27 US States that still use the death penalty, has not carried out an execution since 2015, and has now pushed back seven execution dates due to the 35-day notice requirement. This decision to push back the executions of John Marion Grant, Julius Jones, Bigler Stouffer, Wade Lay, Donald Grant, Gilbert Postelle, and James Coddington was initiated by the Attorney General's office... Read more by becoming an Amicus Member. Death-row exoneree Curtis Flowers sues Mississippi prosecutor who prosecuted him six times Curtis Flowers, exonerated from death row in 2020, is suing the prosecutor who tried him six times, along with an investigator and two police officers involved in his wrongful conviction. In his civil suit, Flowers alleges that the prosecutor, Doug Evans, an investigator, John Johnson, and two Highway Patrol officers, Jack Matthews and Wayne Miller, "engaged in repeated misconduct to fabricate a case that never should have been brought"... Read more by becoming an Amicus Member. Supreme Court blocks execution of Texas man who wanted pastor to lay hands in death chamber The US First Amendment promises religious freedoms, expression, assembly, and the right to petition. It prohibits Congress from promoting one religion over others and curbing an individual's religious practices. It guarantees freedom of expression, it provides assurances to the right of citizens to assemble peaceably and to petition their government. Texas death row inmate, John Ramirez, won an exculpation from execution... Read more by becoming an Amicus Member.