Newsletter: October, 2021
Our newsletters are sent to members at the end of every month. They are composed of articles (usually US death penalty-themed) written by members for members.
We publish an abbreviated version here shortly after it is sent out. If you'd like to write for the newsletter and support us, click here to become a member.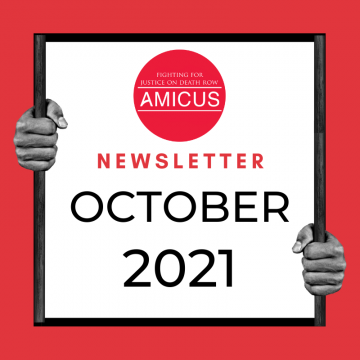 In the News
Ernest Lee Johnson is executed in Missouri Ernest Lee Johnson, who was sentenced to death for murdering three individuals in a robbery, has been executed by lethal injection of pentobarbital at the state prison in Bonne Terre, Missouri. Prior to his execution, and subsequently after, Johnson's case has received significant political and media attention. Predominantly, this attention has entered on Johnson's potential intellectual disability, which could render his execution unconstitutional... Read more by becoming an Amicus Member. Oklahoma Pardon and Parole Board deny clemency to John Marion Grant The Oklahoma Pardon and Parole Board have denied the clemency petition filed on behalf of death-row prisoner Mr John Marion Grant, who is scheduled to be executed on October 28, 2021. This is Oklahoma's first execution since 2015, following two botched executions that led to a pause on all state-sanctioned executions... Read more by becoming an Amicus Member. California judge will re-sentence Scott Peterson in December to a life term In 2005, Scott Lee Peterson was convicted and sentenced to death for the 2004 murder of his pregnant wife, Laci Peterson, and their unborn son. Peterson's case was put on automatic appeal to the Supreme Court of California. On August 24th 2020, Peterson's death penalty was overturned after the Court found that jurors who disagreed with the death penalty were improperly dismissed. His conviction, nonetheless, was upheld... Read more by becoming an Amicus Member. Florida Supreme Court denies challenge to death-row prisoner James Dailey's conviction The case of James Dailey epitomises the barbarism of the death penalty: adherence to judicial finality is often prioritised over ensuring that an innocent individual is not executed. Dailey's story begins in 1985 when he was convicted and sentenced to death for the 1985 murder of a teenage girl. His most recent post-conviction challenge argued, amongst other claims, that new evidence proving his innocence had come to light... Read more by becoming an Amicus Member. Virginia death-penalty review exposes the myth that the death penalty is reserved for the 'worst of the worst' cases Following the recent abolition of capital punishment in the state of Virginia, Corinna Barrett Lain, a law professor at the University of Richmond, has released a though-provoking review into the death penalty. It is not, she finds, the 'worst of the worst' who have been sentenced to death in Virginia, and across the US, but largely those who fall into three specific categories... Read more by becoming an Amicus Member. FEATURE: Stitches for Time: quilting project gives voices to incarcerated artists
The death penalty, who has the right? The best legal talent of the parish, the State, and the country is used with crushing force against the indigent black and brown bodies. Even the most callous, the most world-hardened of human beings cannot be unmoved as he or she hears the verdict which condemns a fellow human being to a state-sponsored shameful death... Read more by becoming an Amicus Member.