Newsletter: July, 2021
Our newsletters are sent to members at the end of every month. They are composed of articles (usually US death penalty-themed) written by members for members.
We publish an abbreviated version here shortly after it is sent out. If you'd like to write for the newsletter and support us, click here to become a member.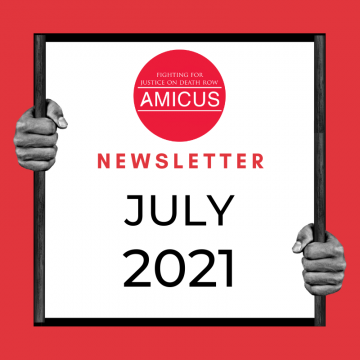 In the News
Department of justice formally pauses federal executions to review Trump death
penalty regulations
In a memorandum issued on June 30, U.S. Attorney General Merrick Garland formally paused federal executions to allow the Department of Justice time to review executive branch policies that the Trump administration adopted in the last two years. No federal government executions took place between 2003 and mid-2020, primarily due to the safety concerns... Read more by becoming an Amicus Member.

The importance of timely motions from counsel in capital case sentencing
The Ninth Court Circuit has reversed the district court's denial of Danny Lee Jones' petition which challenged his death sentence in Arizona. Earlier this month, the panel concluded that Jones was denied effective assistance of counsel at his sentencing hearing as counsel failed to request a mental health expert to evaluate him in time... Read more by becoming an Amicus Member.

'Exhibit A'
When you seek to convince a Court that the practice of sentencing someone to death for a crime is irretrievably flawed you need to present to them exhibits to make your case – Anthony Porter was 'Exhibit A.' On the 7th July 2021, the former Illinois death row inmate's death was announced by his former lawyer, Jim Montgomery. Porter was aged just 66... Read more by becoming an Amicus Member

Jewish congregation renews request for Department of Justice to drop death penalty in Tree of Life Synagogue killings
A Jewish congregation at the Tree of Life synagogue has renewed its request for the Department of Justice to not seek the death penalty against Robert Gregory Bowers, the man accused of murdering worshippers in a mass shooting on October 27, 2018... Read more by becoming an Amicus Member.

Federal prosecutors no longer seeking death penalty for John Pearl Smith II
Following the moratorium on federal executions imposed by Attorney General Garland, the US Attorney's Office for the District of Alaska have withdrawn their intent to seek the death penalty for John Pearl Smith II, scheduled to go on trial in October. John Pearl Smith II is accused of 17 federal charges... Read more by becoming an Amicus Member.

Arizona Supreme Court rejects prosecution attempt to expedite executions based on State's own error on shelf life of execution drugs
Attempts by prosecutors in Arizona to expedite the executions of Frank Atwood and Clarence Dixon have been rejected by the Arizona Supreme Court. The desire for expedition was driven by the State's realization that the shelf life of the quantity of pentobarbital, a drug used for the lethal-injection, was due to expire... Read more by becoming an Amicus Member.