Newsletter: December, 2021
Wednesday, January 5, 2022
Our newsletters are sent to members at the end of every month. They are composed of articles (usually US death penalty-themed) written by members for members.
We publish an abbreviated version here shortly after it is sent out. If you'd like to write for the newsletter and support us, click here to become a member.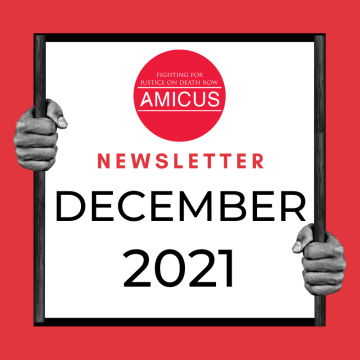 In the News
Oklahoma executes man for teacher's slaying in 1985 after Supreme Court denies final appeal The state of Oklahoma executed Bigler Stouffer II, 79, via three-drug lethal injection at the Oklahoma State Penitentiary in McAlester. He was declared dead at 10:16 am. Stouffler's request for a stay of execution was denied by a federal district judge, and the U.S Court of Appeal for the Tenth Circuit. A final appeal lodged with the Supreme Court... Read more by becoming an Amicus Member. Advocacy groups call on Supreme Court to reverse Texas death-penalty decision that flouted earlier court guidance Multiple campaign groups have called on the U.S. Supreme Court for a second time to summarily reverse a Texas Court of Criminal Appeals (TCCA) decision that upheld the death sentence of Terence Andrus. Andrus was tried and sentenced to death for a carjacking in 2008; under the influence of PCP-laced marijuana, he killed the car owner and a bystander by gunshot... Read more by becoming an Amicus Member. US Supreme Court hear case that could have dire consequences for death-row inmates The United States Supreme Court heard oral argument on December 8, 2021 in a case that will have serious consequences for the right to federal court review of wrongful convictions and death sentences. The case, Shinn v. Ramirez and Jones involves two separate cases where two men on death-row argued in federal court that both their lawyers failed to bring up evidence... Read more by becoming an Amicus Member. Judge who criticised death penalty system suspended for 90 days On 3 December 2021, the Alabama Court of the Judiciary issued a sanction against Jefferson County Circuit Judge Tracie A. Todd of a judicial suspension for 90 days without pay. A complaint was made against her by the Judicial Enquiry Commission. Todd was charged inter alia with abandoning her role as a neutral arbiter, disregarding appellate decisions, and undermining public confidence in the legal system... Read more by becoming an Amicus Member. Jury recommends the death penalty for Markeith Loyd in killing of Orlando police officer Markeith Loyd, 46, is accused of fatally shooting police officer Debra Clayton outside a Walmart store on 9th January 2017 as she attempted to arrest him for the murder of his pregnant ex-girlfriend, Sadie Dixon. Lt. Clayton, 42, had worked for the Orlando police department for 17 years before being killed, and was a Master Sergeant, posthumously promoted to Lieutenant... Read more by becoming an Amicus Member.
Wade Lay execution to be stayed, as Oklahoma Pardon and Parole Board denies clemency to two other death-row prisoners On 6 December 2021 District Judge Tim Mills of the Pittsburg County District Court in the State of Oklahoma ordered a stay on Wade Greely Lay's execution following an evidentiary hearing. The hearing brought to light that Lay experiences paranoid delusions from schizophrenia which left him without a rational understanding of the reason for his execution... Read more by becoming an Amicus Member.