Newsletter: June 2018
Our newsletters are sent to members at the end of every month. They are composed of articles (usually US death penalty-themed) written by members for members.
We publish an abbreviated version here shortly after it is sent out. If you'd like to write for the newsletter and support us,
click here
to become a member.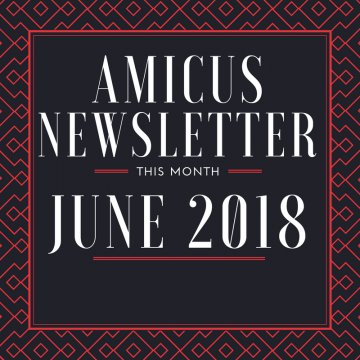 Amicus News

BOOKING FOR AUTUMN TRAINING NOW OPEN!!
We are happy to announce that Amicus' US Death Penalty Training Autumn 2018 will be taking place on 19th - 21st October and 3rd and 4th November.
For more details and to book your space click here.
CONGRATULATIONS NEW AMICUS STUDENT REPS!!
Well done to all our newly appointed new Amicus Student Reps. This year really had a high calibre of applicants and we look forward to working with you all for the period of 2018/19!

If your university does not have an Amicus student rep, have no fear! We will have another round of applications in August for universities without reps. So keep a close eye on the News and Student Groups sections of our website.
US INTERNSHIPS
For those of you interested in completing an Amicus US internship, please click here for more details and to apply.
Check out our blog for updates from our interns in the US and UK.
If you haven't already, please take a moment to fill out ourcommunication preferences form so that Amicus can keep you up to date with Amicus news, events and opportunities.
Also, browse The Obstacles page for facts and quotes about death row, including links to some very interesting podcasts. If there is content you think we should include, please get in touch with us at admin@amicus-alj.org.
In the News

Racist Jurors, Extreme Mental Illness - a Federeal Court is Rethinking the Case of Texas Death Row Inmate Andre Thomas
Death sentences and executions have been on a steady decline. Unfortunately, there is a constant steady drip of state-sanctioned killing almost entirely...Read more
Death Row Inmate Appeals Sentence on Basis of Jury Anti-Gay Bias
Charles Rhines, a gay death row inmate in South Dakota, has asked the U.S Supreme Court to make a ruling that it is unconstitutional for jurors to impose the death penalty based upon anti-gay animus and stereotypes. Rhines, who was sentenced to death for a 1992 murder, contends that...Read more
Last juvenile sentenced to die in Washington re-sentenced to 48 years
The last juvenile to be condemned to death in Washington has received a new sentence. On 8 June 2018, Kitsap County Superior Court Judge Sally Olsen sentenced Michael Furman to a minimum of 48 years in prison. As he has already spent 30 years in prison, his re-sentencing means...Read more
Death sentences becoming increasingly rare in Georgia
Throughout last year, no new prisoners were added to death row, one inmate died of natural causes, one had his sentence commuted, and one - JW Ledford Jr. - was executed. For the state which killed the most people in 2016 (nine inmates), it was a very quiet year...Read more
The Tragic Case of Corey Williams
Corey Williams was sentenced to death for the murder of 23-year-old Jarvis Griffin. On 21 May 2018, after more than 20 years behind bars, Williams walked free out of Louisiana State Penitentiary. One evening in January 1998, Griffin was shot dead in his car, having just...Read more
Amicus would like to extend a special thanks to Shelina Khudurun, Shaniah Royer, Jessica Hudson, Matthew Turner, and Will Hanson for their contributions to this month's newsletter.
If you'd like to have your say, please get in touch with us at admin@amicus-alj.org. We'd love to hear from you!