Newsletter: May 2018
Our newsletters are sent to members at the end of every month. They are composed of articles (usually US death penalty-themed) written by members for members.
We publish an abbreviated version here a month after it was sent out. If you'd like to write for the newsletter and support us,

click here

to become a member.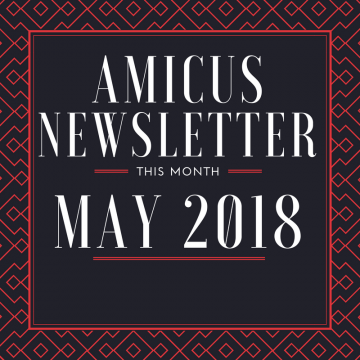 Amicus news
BOOKING FOR AUTUMN TRAINING NOW OPEN!!
We are happy to announce that Amicus' US Death Penalty Training Autumn 2018 will be taking place on 19th - 21st October and 3rd and 4th November. For more details and to book your space click here.

Amicus Student Reps
Applications for Amicus student reps 2018/19 are still OPEN!! For more information and to apply click here. The deadline for all applications is Friday 15th June at 5:00 pm.

US Internships
For those of you interested in completing an Amicus US internship, please click here to apply and for more details.

Check out our blog for updates from our interns in the US and UK.

If you haven't already, please take a moment to fill out ourcommunication preferences form so that Amicus can keep you up to date with Amicus news, events and opportunities.

Also, browse The Obstacles page for facts and quotes about death row, including links to some very interesting podcasts. If there is content you think we should include, please get in touch with us at admin@amicus-alj.org.
In the news
Judge says Texas death row inmate's sentence should be reduced due to false evidence at trial
Storey, along with an accomplice, shot and killed Jonas Cherry during the robbery of a putt-putt golf course in Fort Worth in 2006. The accomplice accepted a plea-deal and was given life without parole, but Storey refused the same offer and went to trial. At the time...Read more

Supreme Court Sides With Death-Row Prisoner Whose Trial Lawyer Told Jury He Was Guilty
Death row inmate, Robert McCoy, had been on trial for murdering three members of his ex wife's family. At trial, his defense lawyer, Larry English, informed the jury that McCoy was guilty, despite McCoy's repeated denial of killing his ...Read more

Illinois governor seeks to reinstate death penalty for mass murderers, cop killers
Governor Rauner is attempting to re-introduce the death penalty through his amendatory veto power by adding it to the proposed gun control legislation. If his amendment is passed, it would bring back the death penalty for mass murderers and the murder of...Read more
Amicus would like to extend a special thanks to Matthew Turner,Shaniah Royer and Jessica Parry for their contributions to this month's newsletter.

If you'd like to have your say, please get in touch with us at admin@amicus-alj.org. We'd love to hear from you!