Newsletter: October 2018
Our newsletters are sent to members at the end of every month. They are composed of articles (usually US death penalty-themed) written by members for members.
We publish an abbreviated version here shortly after it is sent out. If you'd like to write for the newsletter and support us,
click here
to become a member.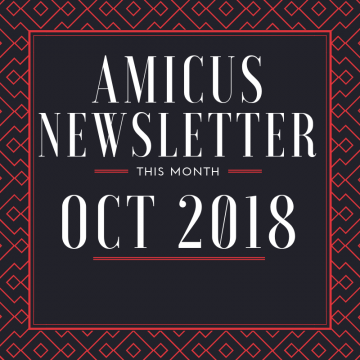 AMICUS NEWS
AUTUMN TRAINING
The second weekend of Autumn training 2018 is about to commence and we start the weekend of with special US guest speakers Elizabeth Vartkessian and Professor Jeffrey Fagan.
If you missed your opportunity to attend training this time, why not book your place for Spring Training 2019? Booking opens on Monday 5th November.
Amicus and amazon
There's now a simpler way to give to Amicus. AmazonSmile allows you to donate a small part of your purchase to a chosen charity at no extra cost. To find out more and set up Amicus as your charity visit the Amazon website here.

US INTERNSHIPS
For those of you interested in completing an Amicus US internship, please click here for more details and to apply.
If you haven't already, please take a moment to fill out our communication preferences form so that Amicus can keep you up to date with Amicus news, events and opportunities.
Also, browse The Obstacles page for facts and quotes about death row, including links to some very interesting podcasts. If there is content you think we should include, please get in touch with us at admin@amicus-alj.org.

IN THE NEWS

Washington State Supreme Court rules death penalty unconstitutional
On 11th October 2018 the Washington State Supreme Court filed its opinion in the case of State v. Gregory. Authoring the majority opinion, Chief Justice Fairhurst held that "Washington's death penalty scheme is unconstitutional, as administered, because...Read more

Supplementary article
Constitutionally unacceptable: Washington waves goodbye to the death penalty - Read more
Stay of execution for death row inmate with schizophrenia
The planned execution of death row inmate Kwame Rockwell, which had been set for 24 October 2018, has been delayed by the Texas Court of Criminal Appeals for the appointment of mental health experts to re-examine...Read more

"Abolished. Full stop." - world day against the death penalty, Malaysia abolition plan and European Union declaration
On 10 October 2018 - World Day Against the Death Penalty - the new Malaysian government announced its intention to repeal its law on capital punishment. At the same time, the Council of Europe and European Union issued a joint declaration reaffirming European "opposition to...Read more

How obsolete laws and unfair trials created North Carolina's outsized Death Row
The death penalty is becoming increasingly rare in North Carolina, yet its death row remains the sixth largest in the United States. More than 100 of its 142 prisoners have been waiting on death row for over 20 years. Since they were convicted, there has been...Read more

Texas supreme court to rehear case to disclose ID of execution drug supplier
The Texas Supreme Court has agreed to return to a previous ruling which dealt with the disclosure of the drug supplier used to provide the lethal injection for the execution of inmates on death row. The supplier has been kept a secret for a number of years, following...Read more
Amicus would like to extend a special thanks to Edward Grigg, Mollie Briggs, Shaniah Royer, Tom Firth-Jones, Hannah Burrows and Megan Brookfield, for their contributions to this month's newsletter.
If you'd like to have your say, please get in touch with us at admin@amicus-alj.org. We'd love to hear from you!