Student Representative Recruitment: Fight for justice from your campus!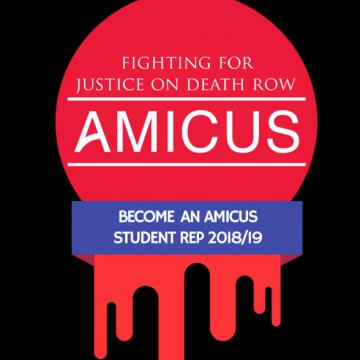 Student Representative recruitment for 2018/19 is now open! This year's cohort consisted of 56 highly dedicated students from 35 universities who have set the bar high. In 2018/19 we hope to continue growing the programme and that's where we need you!
What is a student representative?
The Amicus Student Representative programme was launched in 2015 with the aims of increasing student engagement and awareness about capital punishment in the US. Reps act as the key point of contact between universities and Amicus. They are independently responsible for organising fundraising events and raising awareness about the work we do.
Who would be a good candidate for the role?
An Amicus representative should:
Have an interest in the US death penalty, human rights and fair trials
Be confident, creative, reliable and committed
Have strong interpersonal skills, events organisation and/or fundraising experience, and the ability to work independently
How should candidates apply?
Interested students should complete the Student Representative application form here.
The deadline for all applications is Friday 15th June 2018.
We look forward to receiving your applications!